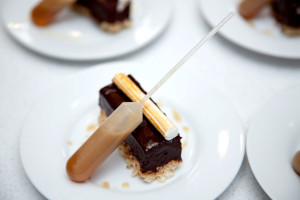 When planning or hosting a corporate event, the caterer can be the vendor that will make or break your event. You should never assume the caterer understands every aspect of your event. Each client they work with is different so it's important to be very thorough in your conversations with the caterer. Before you sign the contract, there are a few things to keep in mind.
Attire
It is very important to make sure your caterer and their staff members dress appropriately for your specific event.
Is the corporate event a black tie gala where attendees will be in cocktail attire? If so, consider having the staff in black pants, white button down shirts and a bowtie.
Is your event featuring French Service? Perhaps the caterers should be in tails and gloves.
If the event is a daytime luncheon where business attire is appropriate, the caterers may be dressed in all black or maybe the event is a more casual one and jeans are appropriate.
Black Tie Gala Attire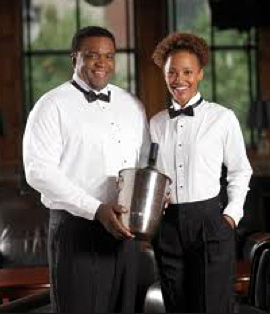 Photo Cred: Chefsmarket.wordpress.com
Corporate Luncheon Attire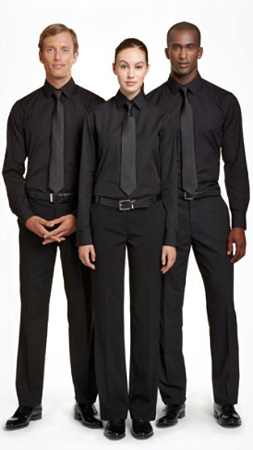 Photo Cred: Chefsmarket.wordpress.com
Set up time
Every event and venue is different. Don't assume that the caterer's average set up time will work for your specific event. You want to make sure they arrive early enough to be set and ready by the time the doors to your event open. But you also want to make sure they aren't arriving so early that the food will be cold by the time it is being served.
A few questions to consider when discussing timing with the caterer are:
How extensive will the set-up be?
Are there several items that will take time to set in place?
Are there a lot of items that will need to be carried into the venue?
How far will the caterers have to walk between the food tables and their vehicle?
It is very important to discuss in detail with the caterer the amount of time it will take them to set up and the exact time you need them to be completely set and ready.
Consumption
Whether you are serving alcohol, sodas or juices at your event, the contract should clearly state if you are going to be charged based on consumption or based on a per person price. In most cases, consumption is the most cost effective way to go.
If you choose this route, it is extremely important to conduct an audit both before and after the event.
When your caterer arrives, you'll need to count all beverages so you are aware of how many there were in the beginning. At the end of the event, count all unopened containers.
Subtracting the remaining amount from the beginning amount will give you a very accurate idea of the charge you should expect to see on your bill.
Again, a caterer can be the single most important piece of your event. Be sure to take the time to read through the contract before you sign so that these important details don't get overlooked.
https://tcgevents.com/wp-content/uploads/2015/08/tcg-blog-Catering-Contracts.jpg
853
1280
TCG Events
https://tcgevents.com/wp-content/uploads/2017/09/tcgevents-logo-tm.png
TCG Events
2015-07-17 00:02:39
2016-11-15 18:03:01
3 Things Often Overlooked in Catering Contracts for Your Corporate Event