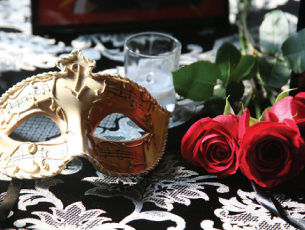 By Special Events Magazine
Whether you're looking to put a fun spin on an existing event or to build a new annual fundraiser from scratch, a theme can help you set boundaries and drive your organization's message and mission home. "What drives return and increased attendance is an event that differentiates itself from the sea of other events," says Cassie Brown, chief experience officer and owner of TCG Events. "Your attendees may develop 'event fatigue,' so it's important to surprise them."
For 12 years, Brown has helped clients integrate their own themes to create memorable and successful events. Not only can themes inform your event, but they can also help you stay within your budget. She offers her tips for getting the most out of your themed events:
1. Adapt items already included in the budget. Take your basic food and entertainment and subject them to your theme for a budget-friendly event transformation. "Food and drink are the most obvious," Brown says. "A themed playlist at the guest entrance and throughout the event space is very inexpensive." Brown says moving the stage location is another way to create an interesting, new feel for your event.
2. Focus your energy on major components. "A mistake many nonprofits make is spending their budget on too many things," Brown says. "It is often better to use the money toward one memorable thing that costs $2,000 versus 10 smaller things that cost $200 each." This tactic can help focus your theme, making for a tighter event overall.
3. Don't let theme and decor overshadow logistics. "People won't remember how pretty the centerpieces were if they had to wait in line for 30 minutes to get a drink," Brown says. Planning a theme can be fun, but don't forget to make sure your event is still staffed correctly and highly organized. Avoid clinging to cliché and expected themes, such as tropical theme nights with pina coladas and palm trees. The novelty wears off quickly when guests know what to expect.
4. Hire an outside event planner to amp up your themed event. Brown says even basic events can take more than 150 hours to plan. Companies like TCG Events can help to suggest "themescapes" that directly serve the mission of your organization, saving you time and money.
5. Incorporate your theme into the overall message of your nonprofit. "If the theme overtakes your event's message, then it probably wasn't the right theme," Brown says. Instead, pick a theme that speaks directly to your organization's mission. If you're planning a fundraising event for a children's hospital, incorporate elements that illustrate the joys of childhood. For example, a superhero-themed evening not only encompasses a child's imagination, but it can also be utilized to recognize donors who are heroes to your organization.
Read the original article in Special Events Galore.
https://tcgevents.com/wp-content/uploads/2015/08/Social-Event-Phantom-of-The-Opera.jpg
230
305
TCG Events
https://tcgevents.com/wp-content/uploads/2017/09/tcgevents-logo-tm.png
TCG Events
2015-01-13 00:15:13
2015-08-02 20:13:26
Pick a Theme That Drives Your Message Home